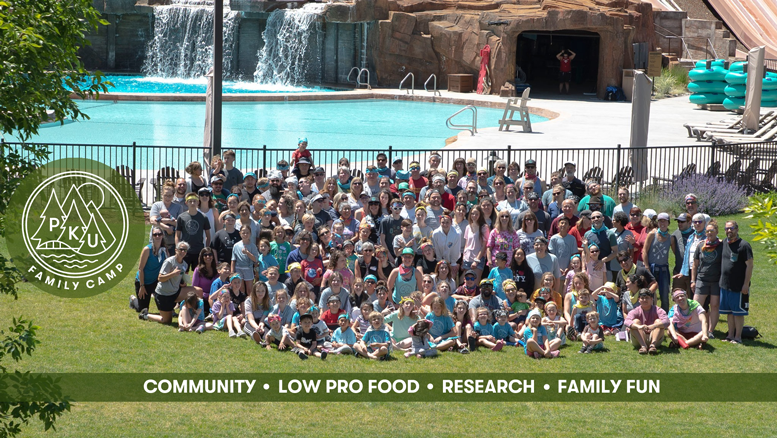 Check out this year's camper map!
Mouse over each dot for details
⬤Virtual Campers
Total Campers: 325
New Campers: 224; Returning Campers: 101
Disorders Represented: PKU, MSUD, UCD, Tyrosinemia & other low-pro disorder
Campers from 3 Countries, 40 U.S. States and 2 Canadian Provinces
⬤In-Person Campers
Total Campers: 151
New Campers: 86; Returning Campers: 65
Disorders Represented: PKU, MSUD, UCD, & HCU
Campers from 2 Countries, 16 States and 1 Canadian Province
Established in 2003, PKU Family camp is a camp for individuals affected by any inborn error of metabolism, their friends and families, formerly run by PKU Northwest and now hosted by PKU News. At camp our whole community gets to enjoy camp olympics, make fun crafts, swim & slide in the epic pool complex, eat good food (low and high!), learn about the latest research…and meet others like you. The annual Family Camp is in early June every year in beautiful Antelope, Oregon at the Washington Family Ranch. PKU News will also host an online component for those who can't attend in person to allow them to connect and participate in many of the camp activities. See the sidebar for registration and camp dates!
We at National PKU News know that this pandemic has been hard and we are working hard to ensure the safety of all of our campers. To this end, the entirety of the indoor spaces will be sanitized, safe practices will be followed, and Covid-19 vaccines will be required for all eligible campers and close-contact camp staff. We understand if you are unable to attend this year and we are offering an online program which will include crafts, cooking, science, and opportunities to connect with the community.
We are excited to highlight some of the summer-making activities including but not limited to:
The Low Phe Life – it's back! The show that highlights our collective experiences with a sense of humor.
Science Night – Join us as we talk about the latest research with the premier scientific minds in the IEM community; alternative activities for children will be offered.
Cooking Demos – Everyone's favorite chef Brenda Winiarski will be sharing her cooking secrets
Low-protein Food – including the premiere of some new recipes! A variety of tolerance options will be available; be sure to list your tolerances on your registration form!

And many more activities from camp Olympics to swimming, crafts to teen night, and the perennial favorite, the talent show!
Our passionate group of staff and the Young Life staff are dedicated to making this the experience of the summer. The board of PKU Northwest—who have built this camp over many years—is actively involved and advising so that the transition to PKU News is seamless. We are very excited and looking forward to camp this year. See you at camp!