Noticed some changes on the Nutrition Facts Label? New labels are rolling out, and some of the changes might throw you off. Here's a primer on what's going on:
There are two types of label updates:
Formatting and content updates dictated by FDA. We're currently seeing new labels based on regulations passed in 2016, which was 20 years after the last label format updates. Manufacturers with less than $10 million in sales needed up update their labels by 1/1/2021, which is why we're noticing changes now
Label updates initiated by the manufacturer, when ingredients or recipes change (more on those below)
Formatting and label content changes
On the new label, calories are larger and in bold; added sugars are highlighted (in addition to the overall sugar content); serving size & servings per container are also larger, meaning it's easier to recognize when a serving size isn't realistic: have you ever eaten half a cheese stick? In addition, FDA made an effort to standardize serving sizes across some product categories, including ice cream: going forward, the standard ice cream serving is now 2/3 cup whereas it was previously 1/2 cup. Lastly, some labels show nutrition per serving and per container—but don't let that throw you off! Here's are some images to illustrate the changes.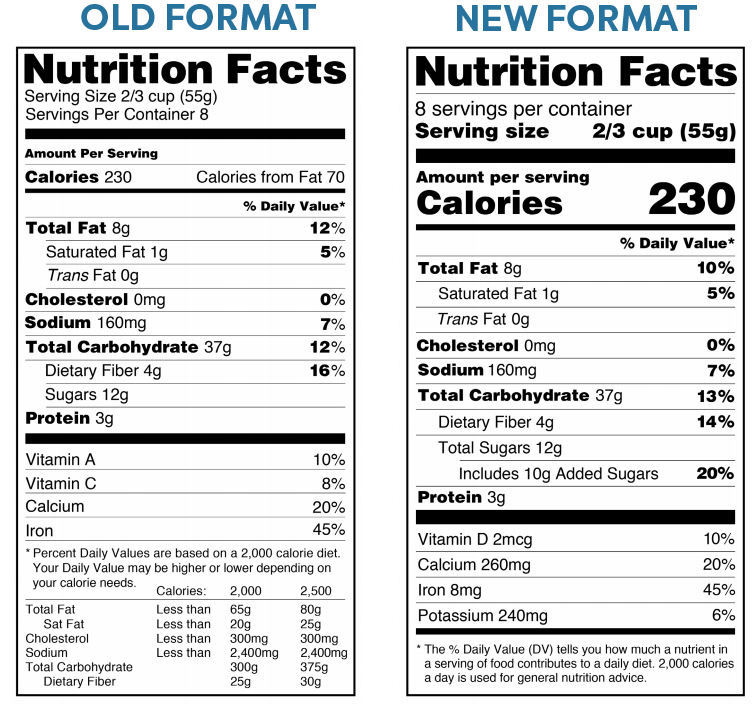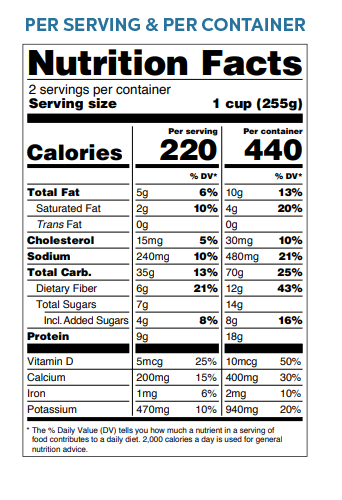 Here's an example of how the changes might look (labeled values and HMP values) for a product we all know and love, So Delicious Vanilla Bean Ice Cream: The phe and protein increase because the serving size increases, but the actual pro & phe content per gram of product remains constant (phe mg/g = 0.5)
| | | |
| --- | --- | --- |
| | Old Format | New Format |
| Serving | 1/2 cup | 2/3 cup |
| Weight | 78 | 105 |
| Calories | 160 | 214 |
| Labeled Protein | <1 g | <1 g |
| Unrounded Protein | 0.75 | .99 |
| Phe (mg) | 39 | 52 |
| Phe (mg/g) | 0.5 | 0.5 |
What if the protein content of a product really has changed?
This is the other kind of label update mentioned below. We all know manufacturers love to reformulate, re-name, and otherwise mess with the products we've come to know and rely on. If you see a product with a label that doesn't match what you're used to even when you adjust for serving size, let us know! The best way to do so is to submit a food request at pheed.me/foodreq (also found in HMP at Foods > Submit Request), and tell us that you've noticed a label change in the comments field. Then, use the text that's generated to reach out to the company — Twitter is ideal because it's public, but Facebook messenger, email, and the telephone work great too. Have info for us? Send it to info@pkunews.org and we'll make updates to HMP!
More details for those interested in the minutiae can be found here.
This update to the Nutrition Facts Panel took twenty years to design and implement. It faced significant resistance from food manufacturers, for whom relabelling is expensive and time-consuming. In addition, many were unhappy with the highlighting of added sugars and calories, which can discourage some consumers from purchasing their products. While the low-protein metabolic community would love to see unrounded protein on all food labels, it's not a realistic goal, particularly because 90% of the foods under the labelling guidelines aren't compatible with the low-protein diet. The Partnership for PKU exists to help educate manufacturers whose products are compatible with the diet why providing unrounded protein is important.