Brenda Winarski has cooked up a Halloween Feast!
If you're looking for more ideas, check out Cook for Love's Halloween Ideas on Pinterest.

Bloody Bones
Preheat oven to 425 degrees and prepare Cook For Love Pizza Dough
Roll out 50g  dough into a 14 inch log and knot each end.
Let rise for 20 to 30 minutes until almost doubled in size.
Bake 10 minutes. Brush with garlic butter.
Bake an additional 5 minutes. Brush with garlic butter again.
Bake another two minutes. Remove from oven and brush with even more garlic butter!
Serve with Marinara sauce.
Creepy Pizza Bites
Prepare Cook for Love Pizza Dough and roll it out.
Using Halloween cookie cutters, make some fun shapes. The ones pictures were 20 to 25g each.
Bake for 8 minutes.
Top with sauce, your favorite low pro mozzarella cheese and veggies.
Bake an additional 5 minutes.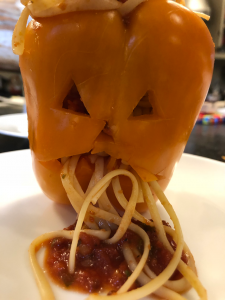 Jack O' Lantern Madness
Make low protein spaghetti (or whatever filling you prefer – riced cauliflower, Asian noodles, fettucine alfredo, etc would all work).
While pasta is cooking, carve a face into a pepper with a sharp paring knife.
Drain pasta. Add sauce.
Stuff into hollowed out pepper.
Use a toothpick to coax the strands of spaghetti out of the mouth for that charming vomit effect that the kids will love.