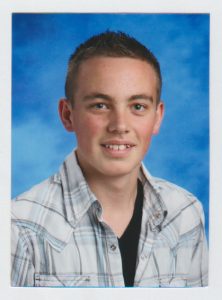 Joshua, a freshman at the State University of NY at Fredonia, is majoring in Political Science. He is honored to have been diagnosed and treated at the same hospital in Buffalo, NY (The Women's and Children's Hospital) where Dr. Guthrie did much of his seminal work on PKU screening. He graduated from high school with an Advanced Regents Diploma and achieved High Honor Roll status due to his high grade point average. For his college degree, he is concentrating on American Politics and may also seek a minor in Communications. He aspires to obtain an internship in Albany, NY or Washington D.C, a position awarded to only a handful of students each year, to further his passion for political science. He plans to ultimately get his Ph.D. at a top university, to work in government at the state or national level, possibly as a press secretary or communications director. He hopes to "make this country a better place" and believes that his experiences with PKU will help him on his career path.
In college, he was quickly selected as the Class of 2019 President as well as a Representative on the Student Association and secured a position at the campus radio station working on day to day operations. He has also recently become the Secretary of the college Democrats. In high school, he was involved with theater and was a member of the stage crew throughout his four years. He went on to join the concert choir and play major roles in several musicals as well as plays. He was very active in student government and school clubs including a four year member of the Outdoor Club and served as an officer all four years, ultimately becoming president his senior year. Additionally, he was elected to serve on the school board, the first-ever elected by peers, taking their concerns and issues to the Board. From the time he was very young, he has spoken to medical students at the University of Buffalo School of Medicine about PKU. As time went on and this became an annual event, his non-PKU brother and PKU sister joined in. He was also involved, with his family, in the PKU family support group helping his Board member parents with organizing dozens of fundraisers, food fairs, cooking classes and picnics.
He has received numerous awards over the years, including being awarded the Falcon Pride Award by teachers in his area to a student who represents academic ability and character. He is a student pilot and received the Wright Brothers' Award in recognition of his work as a teaching assistant in his high school's Flight and Aviation class. And last year he was awarded the Youth of the Year Award from the Erie-Niagara Sunrise Exchange Club, for his "talents to attain a high level of scholastic excellence, demonstration of outstanding leadership and civic responsibility." He has held numerous part-time work positions, including for the National Little League and a grocery store.
He maintains his strict diet while in college, finding an accommodating food service department who will even prepare his low protein pasta, and having access to a small kitchen in the college dormitory.
Joshua says, "Just as a fish doesn't know it lives in the water because it is always in it, I don't know life without PKU. To me, it's just natural. I have never had a negative opinion about it. I never thought to myself, "I wish I didn't have PKU." The fact is, I find myself fortunate to have an experience that few others have. I have had a very unique life because of my PKU. I don't know any other person my age who can say they have spoken annually in front of a lecture hall full of medical students, or have had the opportunity to meet brilliant doctors and professors and get to know them personally. Perhaps I wouldn't have such a positive attitude if it weren't for my family. My entire extended family knows what my sister and I can eat and go out of their way to accommodate our diet, without making us feel different or special. My parents have taught us how to take care of ourselves. My clinic has also always supported me and my family and I treasure them in my life. I am a firm believer that PKU has done more good for me than harm."
Says a teacher, Josh distinguished himself as one of the most astute and academically able students in a group of accelerated students. The course is taught at a collegiate level and Josh's academic ability and intellectual curious are matched by an empathetic and gentlemanly demeanor. He consistently scored in the top one percent of the class and was always an integral part of classroom discussion and activity." Another teacher writes, "Josh is a natural born leader, highly intelligent, articulate, thoughtful, and empathetic. He was an outstanding member of our school community, involved in leadership roles throughout. All the while, he has received many academic and social honors and awards. His attention to detail and ability to understand what it means to be part of a community and setting priorities is evident in all that he does."